Charity Shop Re-opening Celebration
Monday, October 23rd, 2023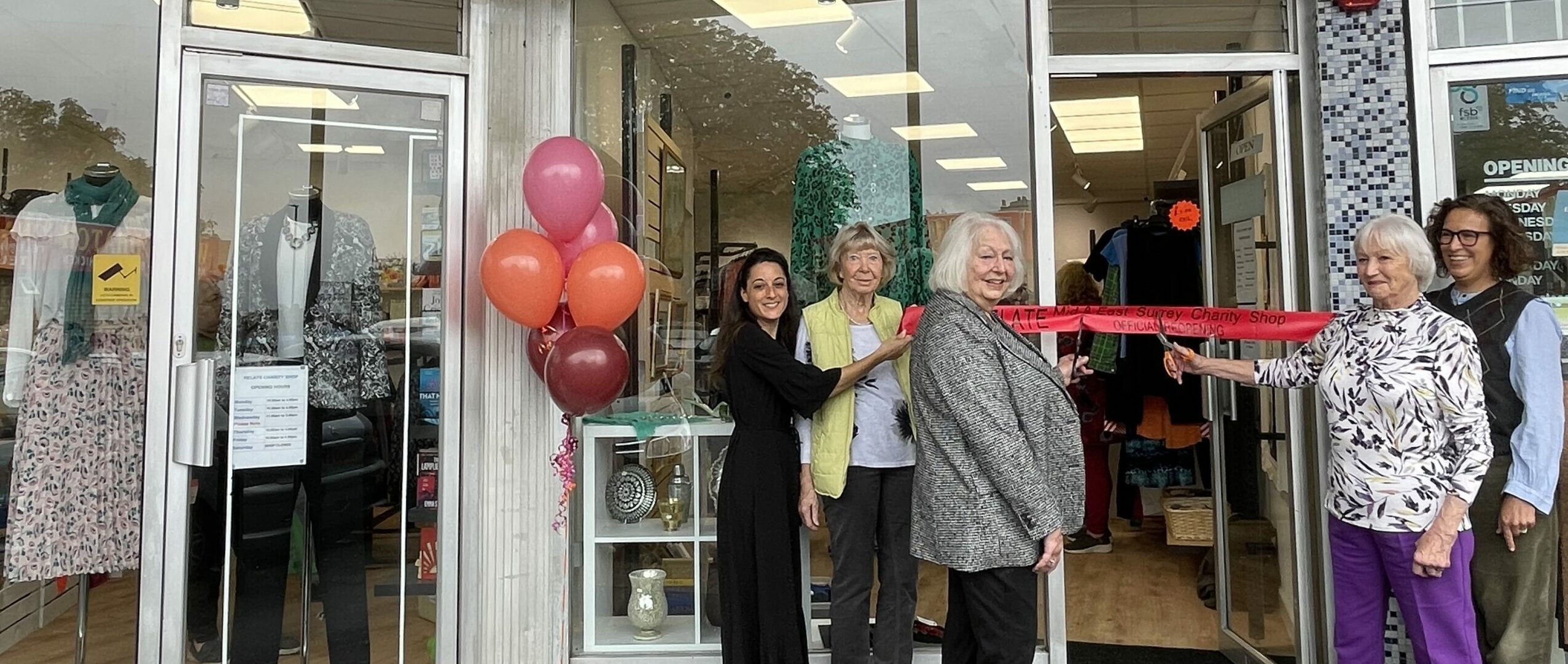 Last Thursday we held the official reopening of our newly refurbished charity shop in Woodhatch, Reigate. It was such a joy to be able to celebrate all the hard work put into the planning, fundraising and implementing of this project with so many volunteers that were involved, including the shop staff, trustee and our volunteer fundraiser. All had so generously given so much time, enthusiasm and energy to ensure the refurbishment was carried out seamlessly and quickly. Also in attendance were a number of customers. The shop is very fortunate to have a very loyal customer base.
The event marked the start of a new chapter. We hope our newly refurbished shop will provide us with the opportunity to support so many more clients in the local area through our counselling services by offering increased numbers of subsidised sessions.
Why is the shop important to us?
During her speech Abi Stokes, CEO said "Relate Mid & East Surrey offer counselling services to couples, individuals, young people and families during difficult times. We believe that everyone should have access to this kind of support and this shop enables us to do that. As this shop is run solely by a team of amazing volunteers, all the takings minus rent and bills goes directly to our local counselling centres in Reigate & Epsom to enable us to offer subsidised and affordable counselling to those in our local area."
Since the pandemic and with subsequent cost of living issues, the requests for subsidised sessions had significantly increased and we are doing everything we can to meet this rising demand. The shop provides essential income and through this refurbishment which we hope to maximise and therefore support more people in our community.
  Our team of shop volunteers
"It is very exciting to see the difference between the old shop and the new shop. It is a rewarding place to work with wonderful staff and management and we learn so much." Volunteer
Our journey to this point
before/after from same perspective
We first took on the lease to a unit in Trehaven Parade in 2000 and in 2006 we able to lease the unit next door and knock through to create the shop we have today. We currently have a team of 30 volunteers who work in the shop, led by an incredible volunteer shop manager. The shop manager Jean, plus some of the team, have volunteered with us since 1992 in our previous charity shop and continue today in our Trehaven Parade site. Jean has been volunteer shop manager since 2008. Despite small updates over time, it became increasingly apparent in recent years that the shop was no longer fit for purpose and a plan was devised to refurbish with new electrics whilst also creating a more user friendly space for both the workers and the customers, with more capacity to receive donations as well as displaying more stock. This would create a potential increase of income to support another 300 clients per year as well as providing a warm & welcoming environment to work and shop in. A long fundraising campaign was begun, the most publicised part being our Crowdfunder campaign and we were very fortunate that the Mortgage Advice Bureau generously match funded our donations. We also received generous donations from councillors at Reigate and Banstead Borough Council, individual donors and local businesses. This summer we achieved our fundraising goal and the work quickly commenced with the actual building works being completed within 4 weeks. Here are some photos of work in progress!
"It is lovely, bright and well-lit with so much more space, and so much better now it is freshly painted. The staff are still the same and very friendly, and prices have not gone up which is great to see." Customer
Thank you!!
As we are now restocked and ready to go in our lovely new space. We would like to say a HUGE thank you to so many people.
Firstly, our incredible team of shop volunteers who have valiantly given time and energy to ensure the refurbishment went smoothly. They worked so hard to clear the shop of all the old stock, give invaluable input into the new layout and the restock the shop once the work was complete. They continue to make our shop the friendly and welcoming place it is.
To our volunteer fundraiser and Trustees who were the power behind our fundraising efforts and project management.
To all the local businesses who donated so generously. A special mention must be made to Reigate & Banstead Borough Council for their donation, to the Mortgage Advice Bureau who amazingly matched our Crowdfunder and to every individual who donated. Every single £1 donated was important.
Finally, thank you to everyone who has donated stock and to those regular customers who pop in and buy.
"It is great to see how it has all come together and the work that has taken place is amazing. We wanted our donation to help towards making a difference and it is lovely to see." Kate Fuller from Mortgage Advice Bureau
For further information on:
RMES Charity Shop, location, opening times, etc click here
Volunteering at the shop and other volunteering opportunities, click here
The services RMES offer, click here